SEALAND ENVIRO is an environmental services company providing ecological restoration of the natural environment.
ECOLOGICAL RESTORATION
RADIOLOGICAL SOIL SORTING
THERMAL REMEDIATION
HYDROELECTRIC
Since 1990 Sealand Enviro has completed hundreds  of ecological restoration projects for government agencies and private sector clients nationwide.
FEATURED PROJECTS
Albany County, New York
Under contract to the NYSDEC Sealand Enviro remediated the former wood treatment site utilizing in-situ groundwater and soil treatment technologies.
Mansfield Hollow, Connecticut
Under contract to O'Connell's Energy Group, Sealand Enviro constructed a 500 KW – Hydroelectric Project adjacent to the U.S. Army Corps of Engineers – Mansfield Hollow Dam.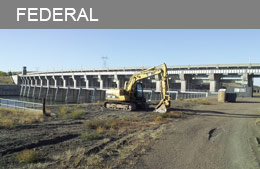 Fort Peck, Montana
Provided heavy civil construction services on this challenging project at FT Peck in the remote northeast corner of Montana.

for Sealand Enviro partners